Our CEO, James Dwiggins, wrote a heart tugging post regarding his personal experien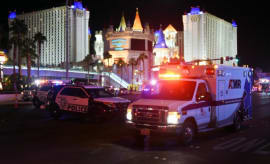 ce with the reprehensible event in Las Vegas. In his post he listed 11 mass murders which occurred over that last 2 years. James' questions, his pleas, are echoed in all of our hearts: what can we do to stop this unwelcomed "new normal" in the US. Here is my response:
Here's the tough reality James: you listed 11 horrific events above. A total of 12-15 people did all of that. There are 325,000,000+ Americans who are mostly good people. Laws, regulations and rhetoric can't and wont change crazy people's intentions. What we desperately need are families who raise children in loving homes where ageless values are taught and exhibited. We need to teach that LOVE for, and patience in, all our of neighbors is SO important. There are not enough police and jails and laws to insure that all will stay on the path of caring and patience with differences. It has to come from inside each of us. I'm glad you are safe and shared your thoughts. God bless humanity.
The post What Can We Do?!!!! appeared first on Mike Walters Real Estate Blog.